A functional home begins with the right floorplan and ensures that each space within it has a purpose that fits your lifestyle. Redesigning your first floor's flow can add practical solutions to everyday needs. 
When you step back and take an objective look at what you need in your home vs. what you currently have, it's easy to see how a redesign can increase your enjoyment and daily life.
Read on to take a look at some practical features to consider when remodeling your current house to make it your dream home. 
Practical Design Features that Make Your Home More Enjoyable
1. Design a flow that matches your needs.
Make sure your home's spaces flow well. You should be able to walk from one room to another without bumping into furniture. Items you need nearby should be positioned within reach. For example, there should be a place to set your tea when you're in your reading nook or watching your favorite TV show.
2. Define your home's spaces creatively.
Open floor plans are trending, and for good reason. You can move freely throughout your home without walls or doors blocking the way from one room to the next, creating a smooth transition between rooms and improving the traffic flow for family and friends. Yet within the open floor plan, spaces need to be defined, so the dining area is used for dining and the living area for living. Furniture, indoor plants, and rugs can be used smartly to define each area's purpose and extent.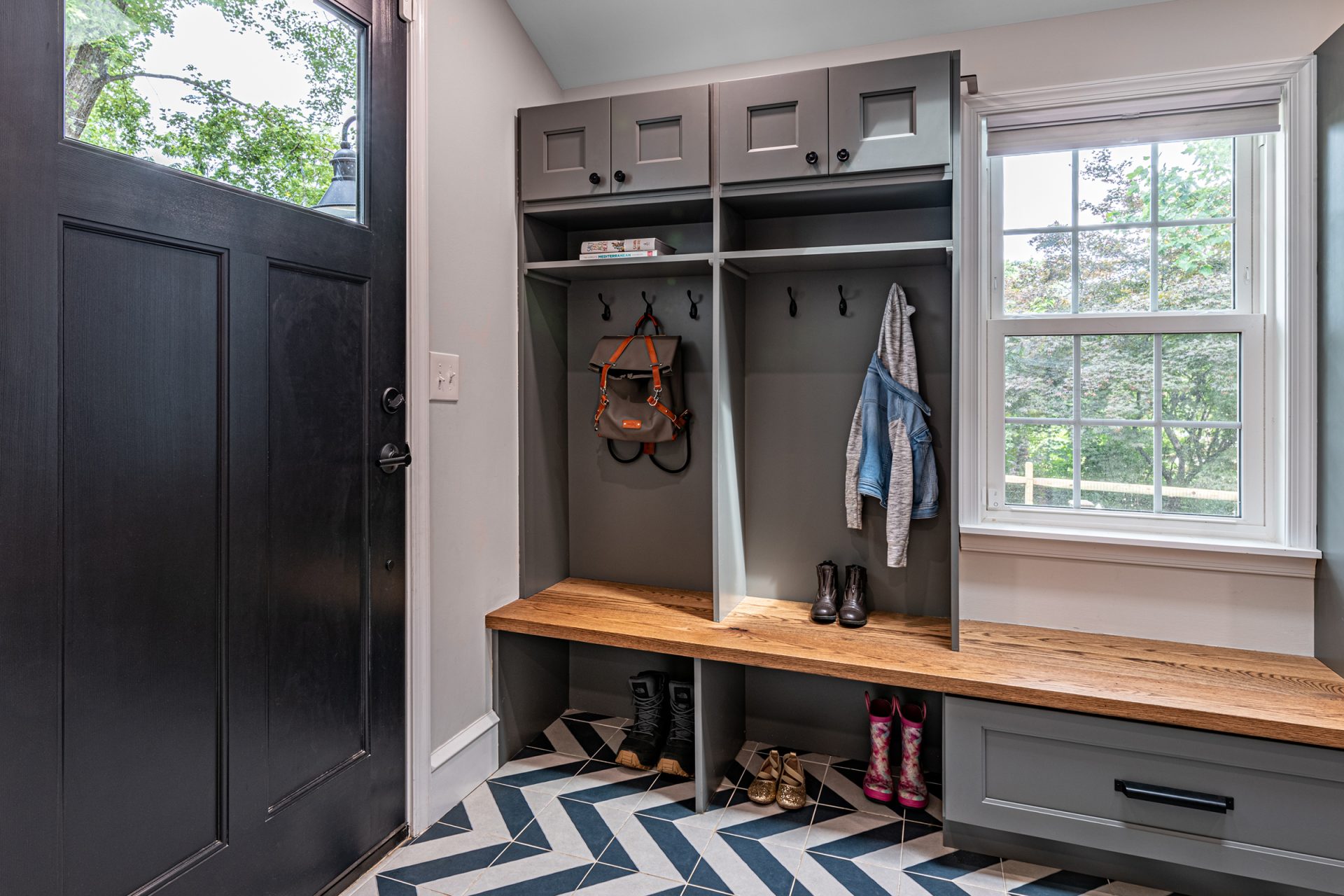 3. Discover the value of a mudroom. 
Regardless of how many children you have or don't have, a mudroom brings organization to your home (and keeps potential tracked-in mud out of it!). Every household member needs a designated "drop zone" to put their coats, shoes, backpacks, sports equipment, and other things they bring in and out daily.
4. Create practical space in each room for adequate storage.
Does your kitchen have enough storage space? How about your bathrooms? Look for dead space in each room and find a way to use it. You may discover it's the perfect spot for additional storage. When everything has a place, you'll live a more decluttered life, lowering everyone's stress level in the home. 
5. Why not expand your gathering space?
If you love to entertain, but walls surround your kitchen, why not tear down a wall and make a great room? You'll be amazed at how it enriches your life to gather friends and family in a relaxed atmosphere where you can bake and socialize simultaneously. Add the island you've been craving, and you've got the perfect set-up for after-school snacks, homework, and time with your kids as you all relax after a long day. 
6. Don't underestimate the value of a designated office space. 
With more and more individuals working remotely, it's practical to designate an office space in your home. It gives you flexibility should you need to work from home for a period of time. And it provides insulation from the noise and activity of the rest of your house, so you can focus on your work once you walk through that door. 
While a small bedroom can easily be converted into an office space, other creative solutions for your hideaway are also available. A portion of your basement may work well, or an unused formal living or dining room could work.
7. Create convenient bathroom locations throughout your home.
A half bath on the main floor of your home is essential, and a luxury bathroom should be part of your master suite. If you refinish your basement, it will need at least a half bath. And second-floor bedrooms should have a full bathroom nearby. A Jack and Jill bathroom (a full-size bathroom located between two bedrooms and handy to both—meaning the bathroom has two doors) makes accessing it convenient for the occupants of each adjacent bedroom. 
8. Learn how a combination of layered lighting impacts your home. 
When it comes to lighting, find a balance between artificial and natural light. Window placement should be planned to make the most of natural light inside your house. If your kitchen faces west, add a large picture window to enjoy evening sunsets as you eat. Add canned and task lighting to create a relaxing, functional feel to your space. 
9. Design ahead based on your future needs.
Are your children growing up? Where will their designated homework space be? Can you ensure they have adequate lighting? Is there a place in the home you can go to when you need space? Are your teenagers headed to college soon? What are your dreams for the space you have to work with once they head out? Are you nearing retirement? How can your home design prepare your surroundings so you can age in place with dignity? Take time to think ahead as you plan your home's redesign. 
Get the Perfect Flow for Your Current Home 
Don't settle for a subpar home layout or dead space that could be repurposed to make your house more functional. You deserve to enjoy an indoor flow that fits your lifestyle and your family's needs.
At Ryann Reed Design Build, we offer whole house remodeling, first-floor, kitchen, bathroom, and basement remodeling, and home additions so you can enjoy the location you love and the home interior you desire. 
We constantly communicate with you through our online portals, which you have access to, and submit daily logs, so you are kept "in the know." We set up regular meetings with our production manager and lead carpenters, ensuring we are on the same page by going through all the details of your remodel.
Check out our gallery of recent home remodeling projects in the Bucks and Montgomery county area.