Kitchen Remodeling Warminster, PA
Looking for the right remodeling contractor for your Warminster, PA kitchen remodeling project? Read more about our design-build process to see if we are the company for you.
Contact Us for a Free Estimate
Please fill out the form and we will get back to you shortly.
Warminster, PA Kitchen Remodeling Contractors
Interested in a kitchen remodel but do not know the direction you want to go in? Our staff is full of dedicated designers that can help guide you towards figuring out what you want. 
Transform your Warminster, PA Kitchen with Ryann Reed
For centuries, kitchens have been the heart of many homes. The kitchen is a place for everyone and is always a good place to congregate. 
Signs Your Bathroom needs a transformation: 
Lack of Space
Lack of Storage
Dullness
Emptiness
Outdated Design
You probably have a good idea if your kitchen needs an overhaul. . Ryann Reed Design Build is always happy to provide custom kitchen remodeling services throughout Warminster, Pennsylvania.  Kitchen remodels come in many shapes and sizes. From simply replacing cabinets and countertops to demo work that includes taking out a wall or gutting an entire kitchen, there are numerous options for how you want to approach it.  Whether you like vintage looks or a more modern look, Ryan Reed can provide options for everyone. At the end of the day, kitchen remodels bring many benefits to your home, including raising the value of your home. 
Who doesn't want a kitchen they'll love for years to come? Let's talk about your dream kitchen today!
What to Expect from a Ryann Reed Kitchen Remodeling Project
Inspire. Design. Create. Our motto is a testament to the creative process that is involved in the planning, design, and construction phases of the kitchen remodeling project. We are devoted to providing all our clients with a finished product that is defined by fine living and beautiful aesthetics. We achieve this through our precise attention to detail and careful consideration of your vision for your Doylestown kitchen project. It is a priority of ours to do all that we can to reduce the anxiety and stress of a Kitchen remodeling project in your Doylestown home. Ryann Reed will be there to ensure that your experience is as comfortable as possible. Below are some guidelines that will help you to prepare and plan for the start of your Doylestown kitchen remodeling project.
Tip #1
It is a good idea to set up a temporary kitchen in another room by planning for alternate food storage areas and preparation space. We suggest setting up an area where you can easily access your microwave, coffee maker and any other small appliances that you frequently use. This will alleviate a lot of the strain that can result from having an out-of-service kitchen during construction.
Tip #2
Changes in routine can be difficult for your children and pets. We recommend planning ahead for their comfort and safety. Children and pets should be kept away from project work areas.
Tip #3
Please take some time to consider how home renovations may impact your daily routines. By planning ahead, you will be able to make some easy adjustments in order to accommodate any space constraints that might make it more difficult to carry out daily activities.
The Ryann Reed Design-Build Process
Ryann Reed isn't your average kitchen remodeling contractor. Our company handles all aspects of the kitchen remodeling project from design and planning all the way through job completion. 
Initial phone consultation is scheduled with our project consultant to discuss your goals, design ideas, budgeting and timeline.
In-home consultation is scheduled with our project consultant to assess the site, discuss project scope, take initial measurements, establish a baseline budget and schedule a follow-up meeting.
Project development agreement is written by the project consultant to include the scope of work and total investment range.
Showroom meeting is scheduled during normal business hours (8:30 am – 4:30 pm) to review and refine the project development agreement, finalize the budget and look over sketches.
Client is invited to BuilderTrend, our online project management software.
Zoning assessments are performed, if necessary.
Site visit is scheduled with the designer to assess the site, confirm measurements and take before photos.
Drawing and 3D renderings are prepared for the final project designs.
Showroom visits are scheduled to select products and finishes.
Tradesmen walkthroughs are scheduled for any specialty trade work that is required for the project.
Estimates are collected for product selections and subcontractor labor.
Construction agreement is prepared with the final scope of work, final budget, total investment and installment payments.
Client approves  the construction agreement, final design drawings/renderings and the product selections. 
Building permits are obtained and plans are finalized through the township.

Trade partner purchase orders are submitted.
Product and material selections are ordered.
Detailed schedule is prepared for the construction phase of the project.
Pre-Construction meeting is scheduled with the production manager, project consultant, designer, lead carpenter and clients.
Preventative cleanliness measures are taken to protect the home and prevent the spread of dust.
Construction work proceeds according to schedule throughout the course of the project. Client accesses the construction calendar, daily logs, and daily progress photos on the BuilderTrend portal.
Plans for the week and messages from production will be exchanged over the BuilderTrend client portal on a regular basis to ensure consistent communication throughout the project. 
Weekly site visits with the production manager to keep the project on schedule and make sure any concerns are addressed as soon as possible.
Installment payments are collected throughout the project according to the agreed upon payment plan. All payments, including change orders, can be submitted through BuilderTrend online.
Punch list is prepared with any small fixes and items that must be corrected before the end of the job. While we always strive for ZERO punch list, we will take any measures necessary to ensure that our clients are satisfied, and the final project meets their satisfaction.
Final walkthrough is scheduled with the home owner, production manager and lead carpenter.
Final payment is collected upon job completion.
Clients enjoy the newly renovated space!
Warranty documents and product care guides accessed through the BuilderTrend client portal anytime after project completion. Hard copies also available by calling our office at 215-372-0040.
Client follow up post project completion to ensure the home remodel continues to meet our high standards and expectations. Continued client satisfaction is our priority, even after the end of the project. Any corrections or repairs will be completed as soon as possible.
Ryann Reed offers a two-year warranty. 
Warranty claims can be requested in BuilderTrend or by calling the office.
Kitchen Remodeling Warminster, PA Photos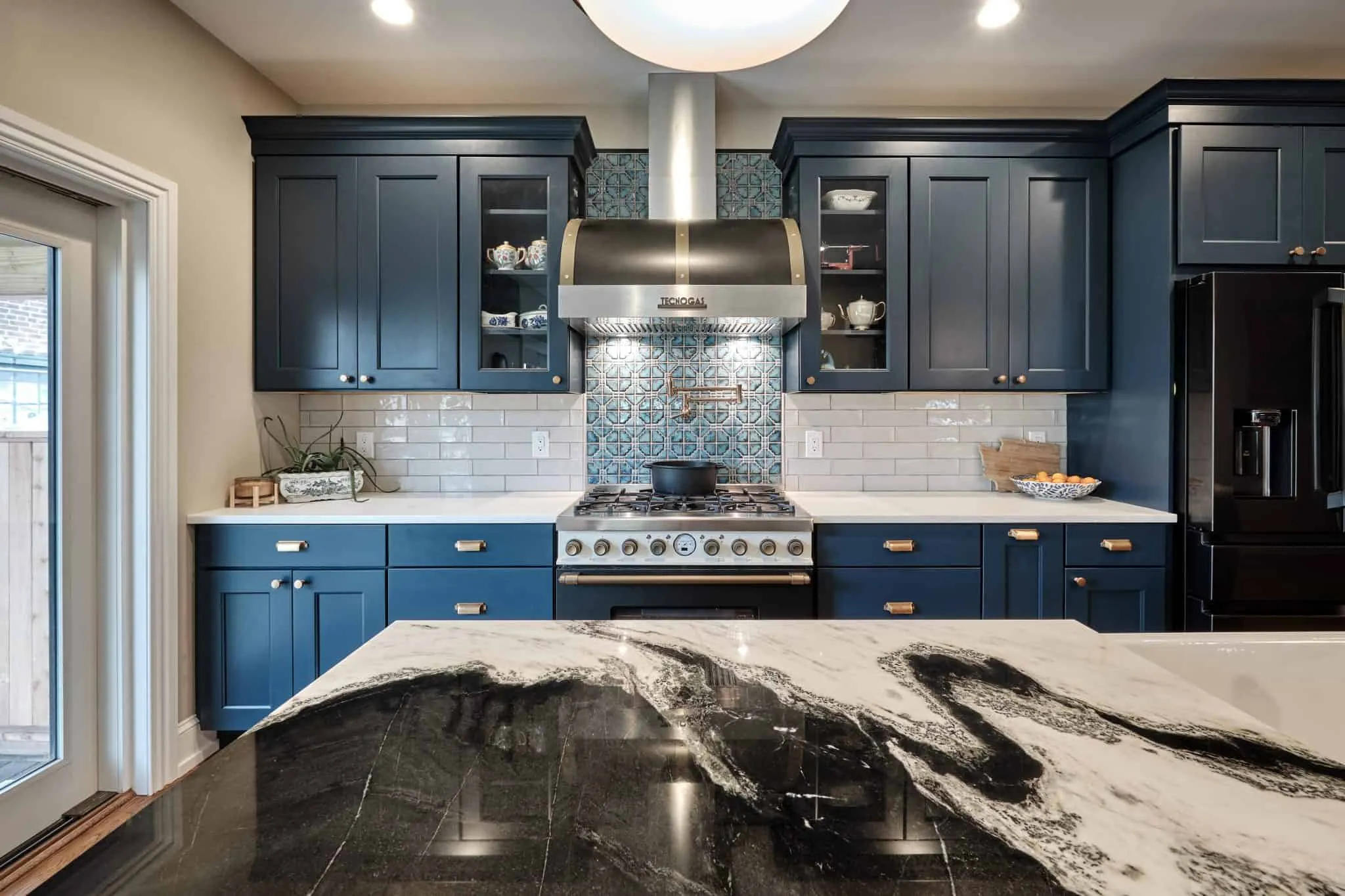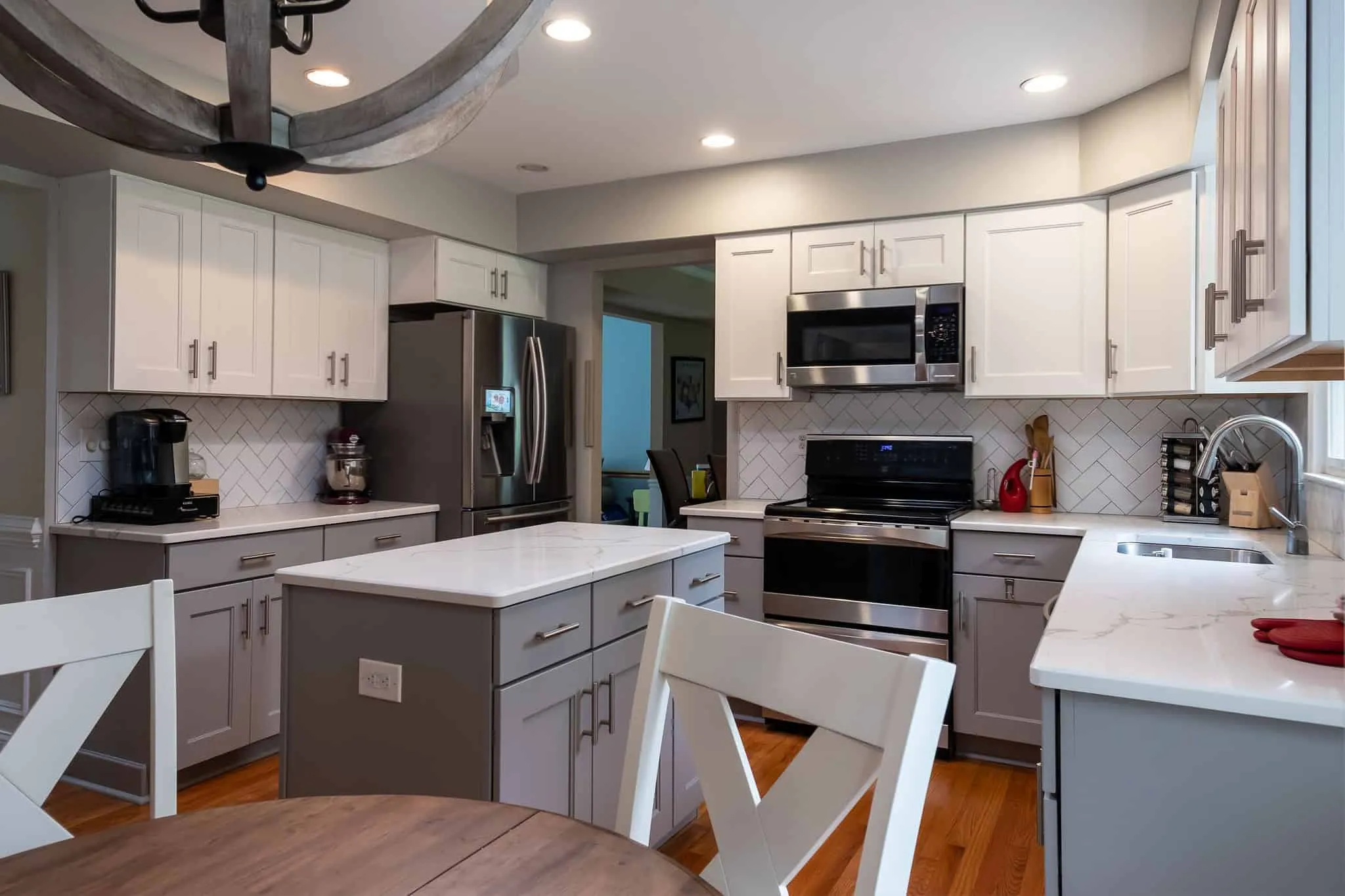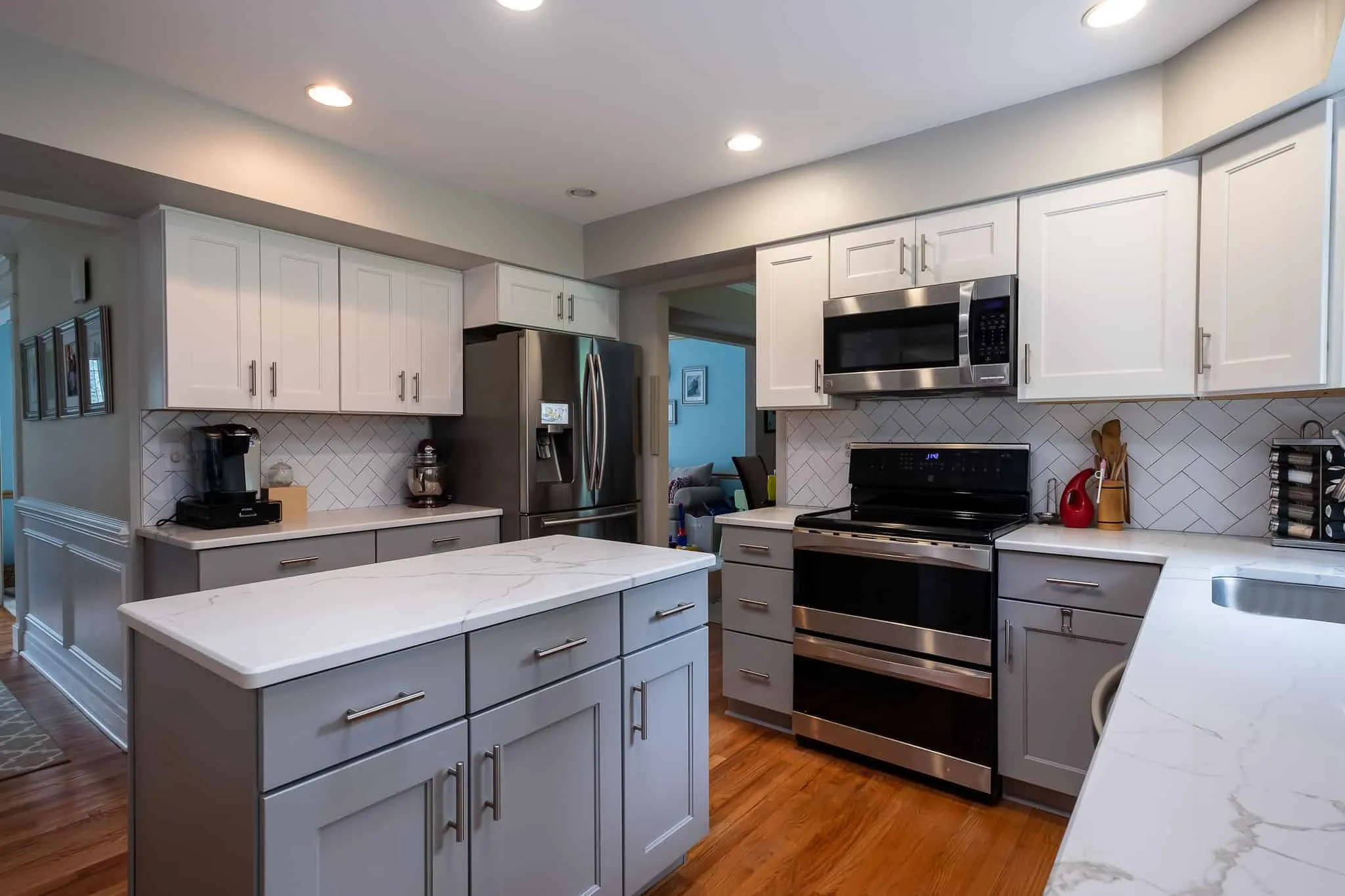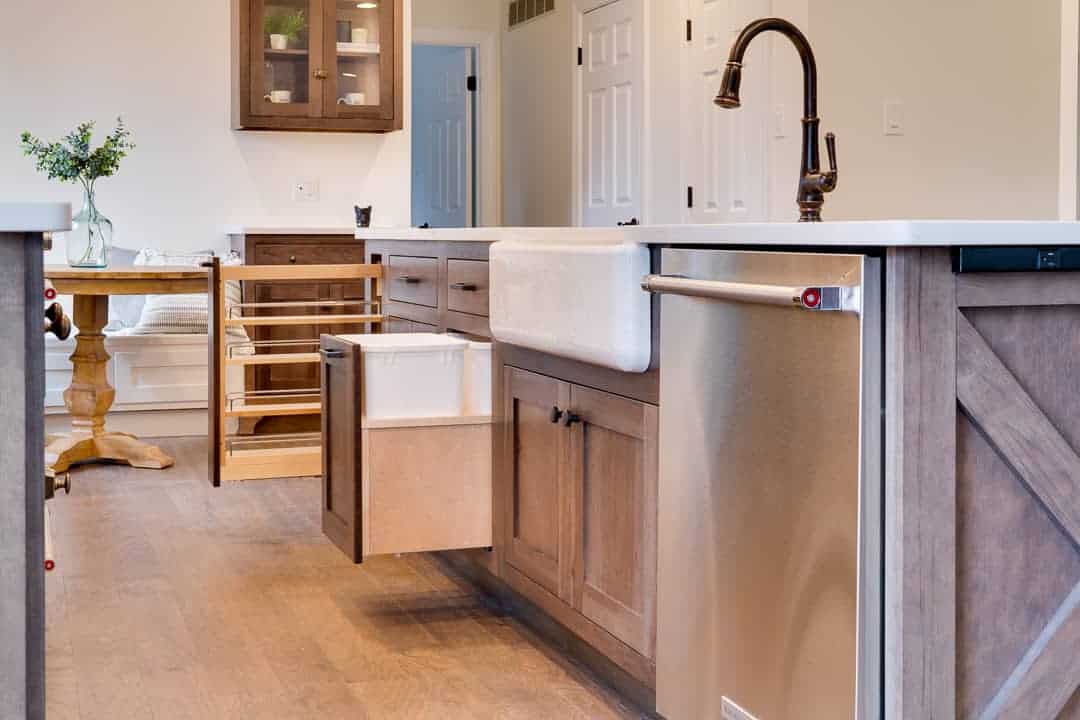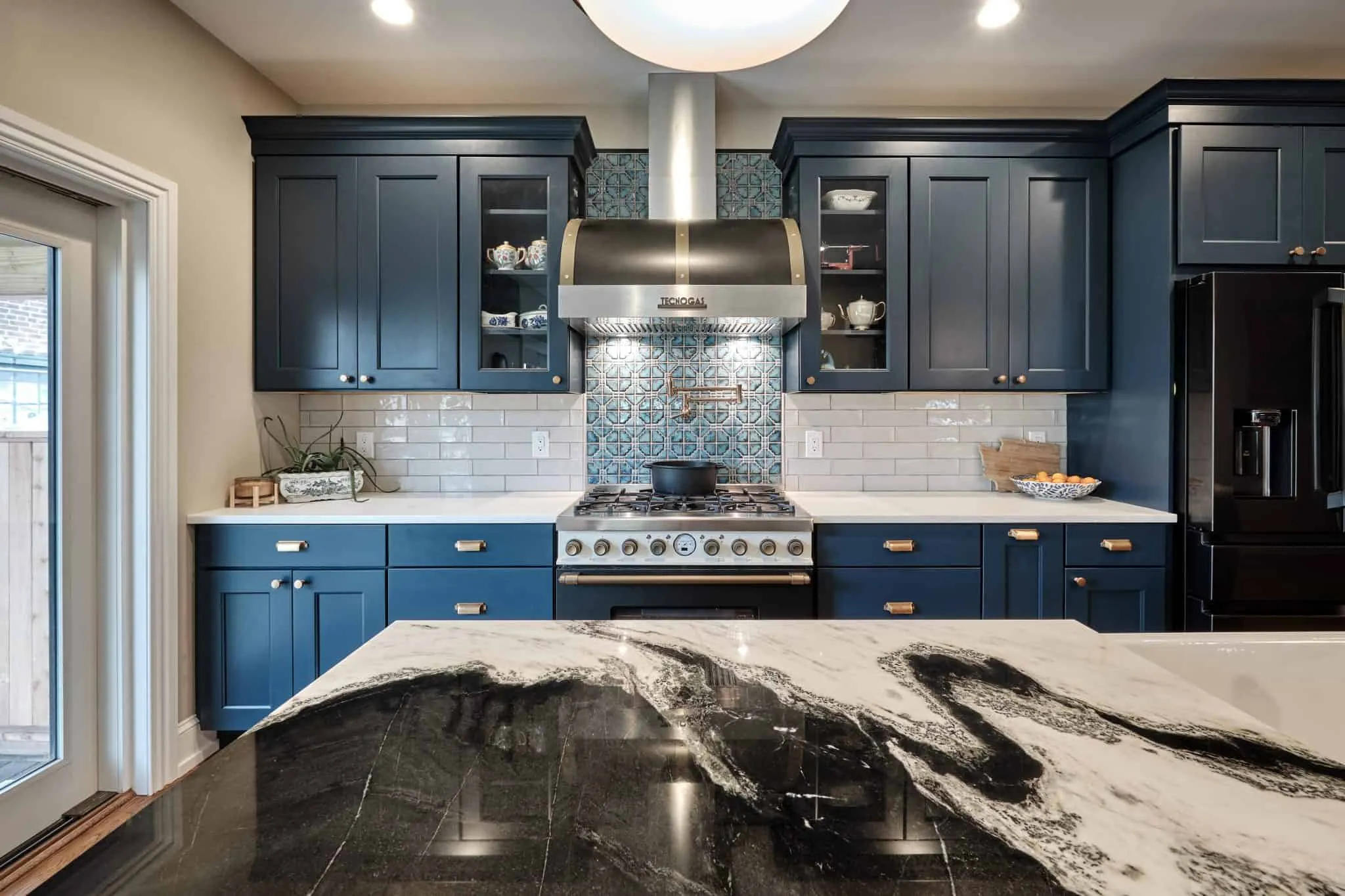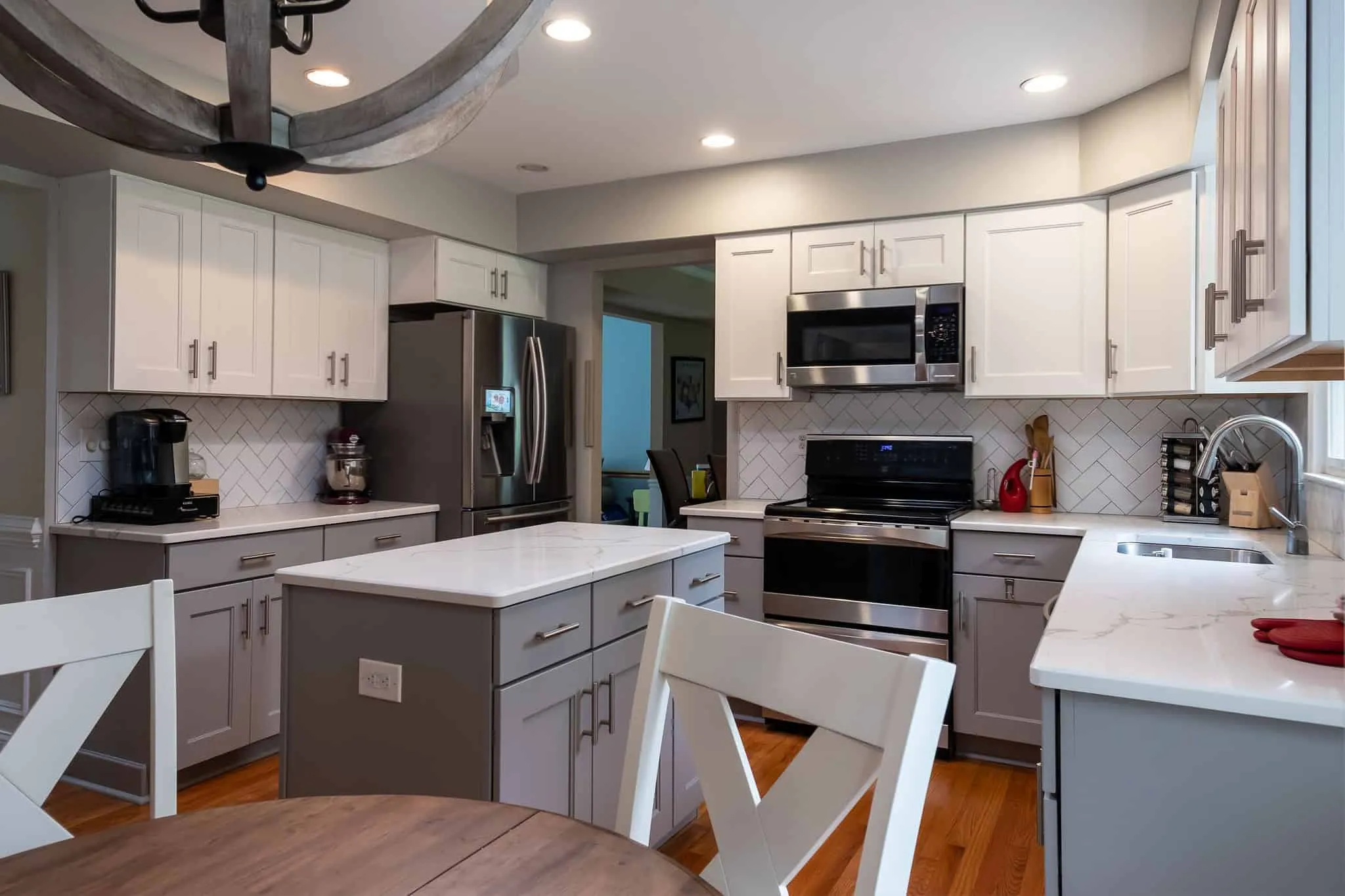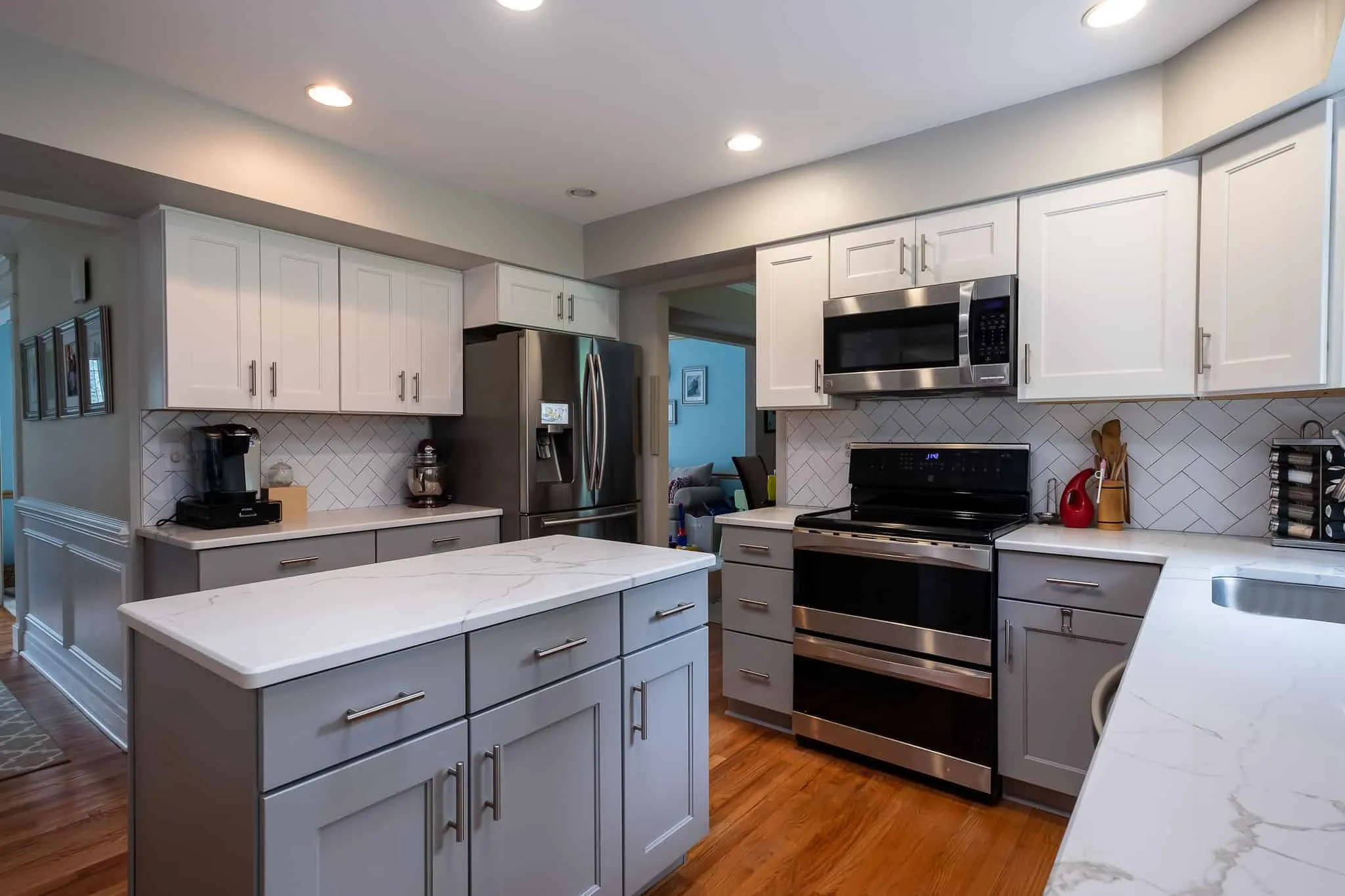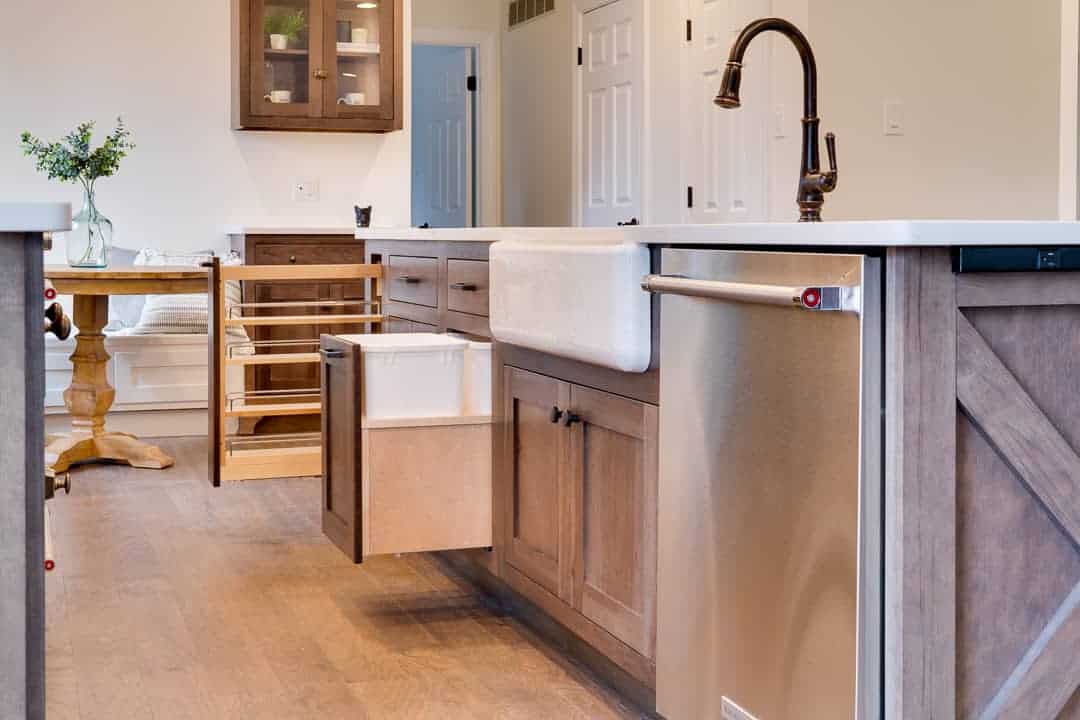 Kitchen Remodeling Service Areas
Kitchen Remodeling Bucks County PA, Kitchen Remodeling Montgomery County PA, Kitchen Remodeling Bedminster Pa, Buckingham, Kitchen Remodeling Chalfont Pa, Kitchen Remodeling Doylestown Pa, Kitchen Remodeling Holicong Pa, Kitchen Remodeling Lehigh Pa, Kitchen Remodeling Newtown Pa, Kitchen Remodeling Pipersville Pa, Kitchen Remodeling Plumsteadville Pa, Kitchen Remodeling Quakertown Pa, Kitchen Remodeling Yardley Pa and more. . .