Gorgeous, Spa-Like Bathroom Redesigns for Pennsylvania Homeowners
Your home's bathrooms offer a valuable everyday space for relaxing and revitalizing—so when they're feeling cramped or outdated, that can be frustrating. Invest in a much-needed bathroom renovation to obtain the spacious flow, premium fixtures, luxurious tiles, and specialty features you deserve.
At Ryann Reed Design Build, we pride ourselves on making your renovation as enjoyable and as painless as possible. We handle all the heavy lifting to create an attractive, spacious new bathroom that expresses your vision and delights you.
Create a Roomy, Spa-Like Bath Area with All the Features You Crave
Elevate your bathroom's overall look and performance—with a gorgeous, top-notch remodel that's well worth the investment for the enjoyment you'll receive from your new space. We'll create a layout and interior design that achieves your goals.
Remodeling your bathroom adds instant value to your home—so why not give it a fresh look and feel that you can fully enjoy throughout your day? Toss the old, dull laminate and plastic fixtures, and update the space with sleek natural stone, wood, and brushed metal elements that are both practical and beautiful. 
Old-style bathrooms often use more water and electricity than needed, driving up utility costs needlessly. We make it easy to upgrade to eco-friendly, efficient new sinks, tubs, showers, and toilets to save on water use. Install energy-saving lighting, attractive specialty sconces or drop lights, and new windows to brighten the space.
Give yourself the gift of a comfortable, soothing bathroom with all the latest in spa-like amenities. Our design team will work with you to find all the right elements to give you the experience you want—such as smart showers, built-in electronics, jacuzzi jets, radiant flooring, heated towel racks, mood lighting and even an interactive LED mirror with a built-in display for the time, weather, traffic, news and calendar appointments.
Say goodbye to tiny, hard-to-reach shelves with a reimagined storage plan. From custom-made cabinetry to built-in storage and creatively hidden shelves, you can have plenty of room for linens, toiletries, and more—all designed for convenient elegance.
Why You'll Appreciate a Bathroom Renovation from Our Team
At Ryann Reed Design Build, we are a one-stop shop for all your remodeling needs—from design to project management and installation. Our desire is to ensure your bathroom's transformation is a perfect representation of you and your family in every way.
There's no need to wonder what your bathroom will look like when it's finished—because we assign a personal designer to oversee your project down to the last detail. You'll receive layout choices that align with your vision and budget. Our 3D renderings make it easy to visualize the look of your new space.
Eye-Catching Materials and Premium Brands
We use only top-performing brands and materials to achieve your personalized interior design. You can expect custom-built cabinetry, custom-made stone (granite, quartz, marble or quartzite) countertops chosen alongside our designer at the stone yard, beautiful shower tiles, plumbing fixtures and hardware, and your choice of luxury vinyl, engineered wood, hardwood, or tile flooring from highly rated brands such as Mannington and COREtec.
We believe in being proactive with our communication, so we always aim to provide you with the information you need, even before you ask. We provide daily updates during your remodel, and our easily accessible online portal ensures you can check in with us at your convenience.
Trusted Project Management
To ensure your bathroom renovation goes smoothly, a highly skilled lead carpenter from our team remains on-site daily. We handle permitting, material orders, and scheduling so you can relax and concentrate on your everyday activities. After our final inspection, we warranty our work in case you need us in the future.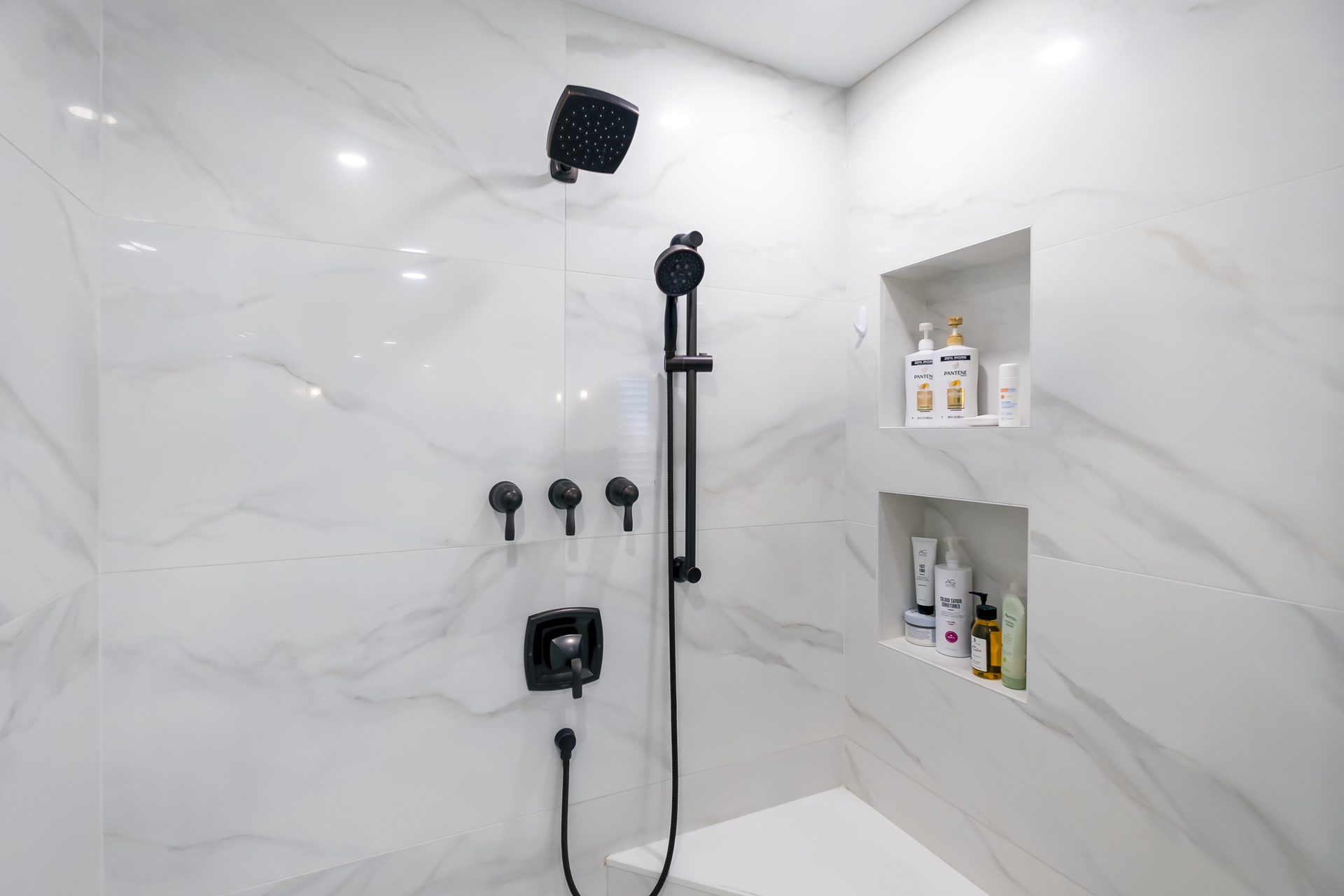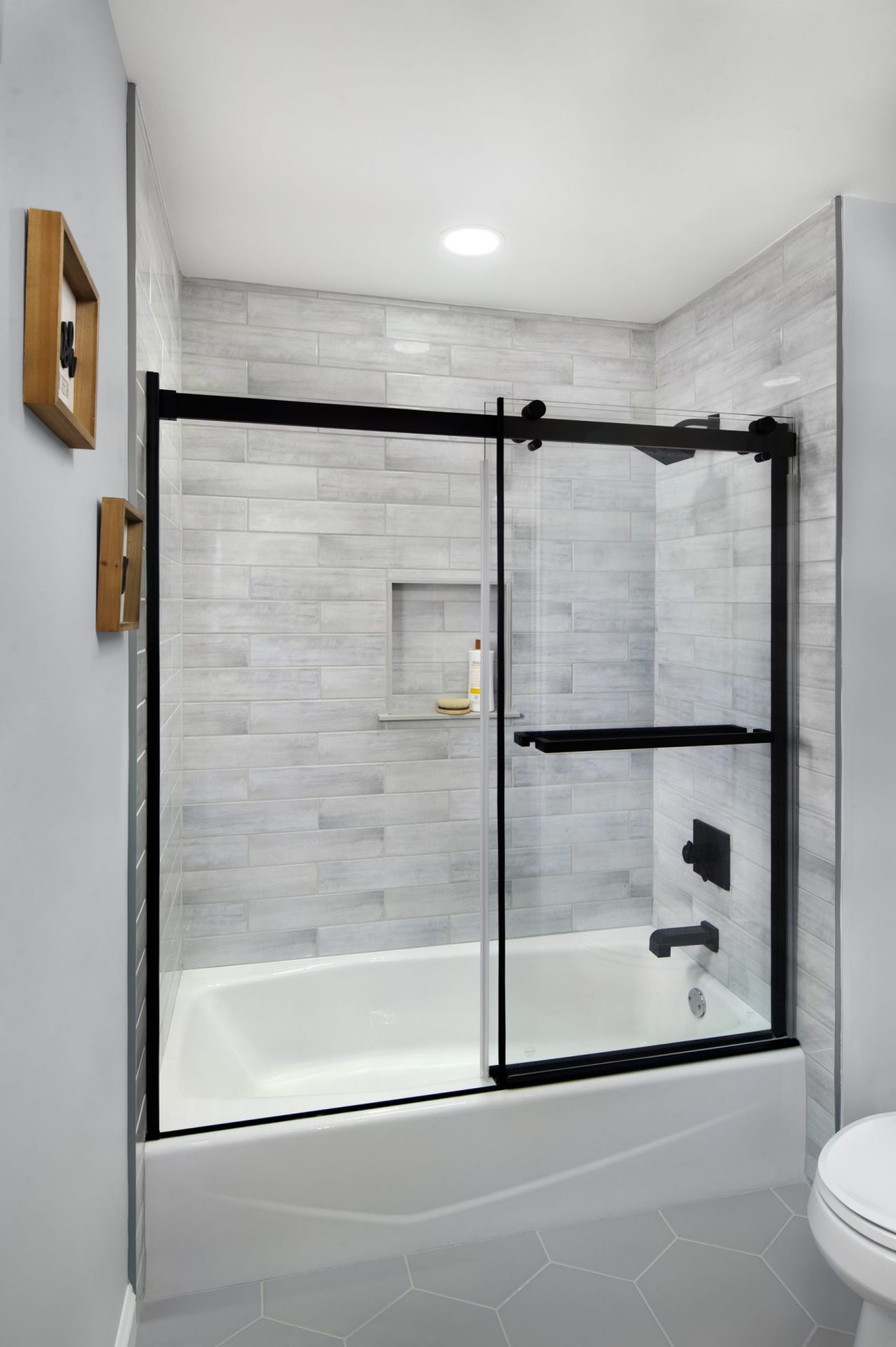 "We worked with Ryann Reed to remodel our Kitchen and the update has been transformative to our home & our experience as a family. We are able to really spend more time together & enjoy the space in a way that has been transformative."
Enjoy the Spa-Like Bathroom You Deserve with Ryann Reed Design Build
Your perfect, elegant bathroom transformation awaits you! With our award-winning team of creative designers and builders, you can look forward to the elegant, spacious new bathroom you're dreaming of.
Reach out to get started on the first-floor transformation of your dreams.