Design a Beautiful Home to Match Your Family's Lifestyle with Ryann Reed Design Build
Do you love your neighborhood and the memories made inside your home? If so, we understand why it feels impossible to imagine moving away from such a special place ⎯ even when your house's layout no longer serves your current (or future) needs.
At Ryann Reed Design Build, we believe homes should last forever, which is why we offer full-service whole-home remodeling. We want to ensure your Pennsylvania home reflects your family's values and personality and can accommodate your practical needs for years to come.
Benefits of Remodeling Your Home with Ryann Reed Design Build
Pennsylvania homeowners love working with Ryann Reed Design Build for remodeling projects. These are just a few notable reasons our full-service home remodeling service stands out above the competition.
When you work with us on your home remodeling project, you can rest assured you are getting the best value for our design expertise and building materials, and you don't have to coordinate your remodeling project on your own.
As a design-build contractor, we can buy building materials for much less than the general public. And since we are an exterior and interior remodeling company, we can do it all — from roofing to plumbing — so you only need to work with one company during the entire home remodeling process.
Not having your remodeling project turn out as you envisioned is probably your biggest fear. We get it — we're homeowners too! Before we order materials, we present you with 3D renderings of how your entire property will look after construction, so you can be sure you're delighted with the final product before we even start building.
During construction, we'll never leave you in the dark about the status of your project. We take a proactive approach to communication. To ensure we're on track with our agreed-upon design plan, we upload regular updates about your project to an online portal.
Montgomery & Bucks County Homeowners Love Our Straightforward Remodeling Process
At Ryann Reed Design Build, we pride ourselves on making the design-build process as enjoyable and painless as possible. We are a one-stop shop for design, project management, and construction, so you don't have to come up with designs on your own, store materials, and manage subcontractors — we take care of all that for you!
During the three-month design process, you will work with a professional designer to create the perfect look for your home with digitally curated layout options to match your project budget and personal style. You will also select from top-quality, pre-selected materials, including:
Flooring
Cabinetry
Hardware
Countertops
Backsplashes
Plumbing Fixtures
Staircase Materials
Doors & Windows
Metal & Woodworking
After your selections, we will create 3D renderings to accurately depict your home's appearance when construction is finished. Then, when the design is approved, we draw up the proposed floor plan, electrical plan, and other documents to be submitted for permits, order the selected materials, and schedule the construction start date. We design every room at once for continuity.
We will purchase, store, and transport the materials needed for your project between the design approval and the construction start date. We also schedule a pre-construction meeting with you during this time so that you can meet the lead carpenter assigned to your project.
We will coordinate your entire project, including the scheduling of inspectors, installers, carpenters, and subcontractors. Once your project begins, you can expect your lead carpenter to be on-site all-day, overseeing the following steps until your project is complete:
Demolition and trash disposal
Foundation, framing, and drywall work
Roofing, siding, and window installation
Plumbing, electrical, and HVAC work
Cabinets, flooring, and tile installation
Stairs, painting, and hardware
When dealing with different levels of a home, we compartmentalize each room project to make living in the home during the project much less challenging for you. After your final inspection and walk-through, your home warranty begins. If you run across any unlikely issues down the road, we will come back to fix them — no questions asked.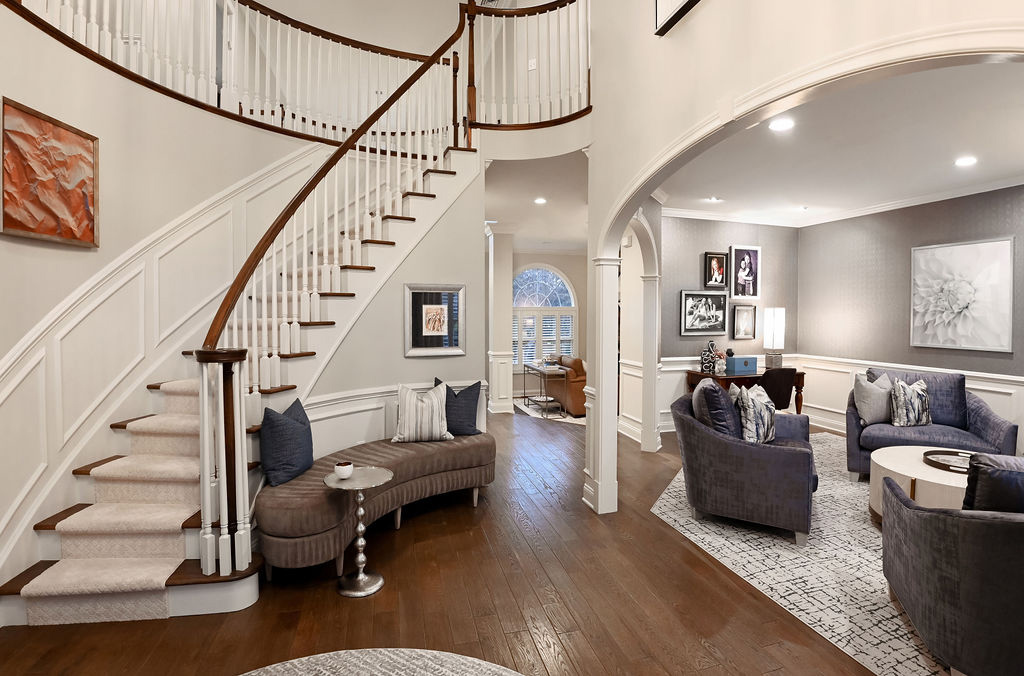 "Ryann Reed Design Build was amazing to work with! They were responsive to all of our questions, and they worked closely with us to realize our vision. I knew that we were working with the best."
Create the Home of Your Dreams with Ryann Reed Design Build
Your home is your most treasured investment. When it's time for a fresh layout that requires a full-scale remodeling project — you should be able to trust that your house is in good hands.
If you're ready to invest in hassle-free design and whole home remodeling for your property, look no further than Ryann Reed Design Build. Reach out to our team to get started on your home remodeling project to create the beautiful, functional space you've been envisioning for your family and future.